Think your summer was disappointing? Maybe you spent the summer of this nightmare of a year sitting inside wondering when you're going to be able to go to the beach without worrying again. Thankfully, there is a cure to make your summer look like it was the best one yet, and that is seeing other people's hilariously bad moments from the past few months. So before you start getting bummed out about your beach season being a big let-down, take a look at these photos, and be glad you didn't have a summer as terrible as the following people.
1. Never Fall Asleep In The Sun With A Bowl Of Cereal On Your Lap
No matter how cloudy it is outside, you have to wear sunscreen in the summer. This girl didn't think about that and fell asleep outside with a bowl of cereal in her lap. That burn looks severely painful, but she at least has a place leftover to hold her bowl and spoon without being in pain.

elley5sos
You can almost feel the heat radiating off of her skin from this photo. She must have gone through dozens of bottles of aloe vera to soothe her legs. If you have ever gotten a bad sunburn like this, you will know how stiff your body can get only because it hurts too much to move.
2. Wardrobe Malfunction
These women are strutting down the beach like everything is normal, but there is something off about their bikinis. We don't know if it is a design error, or they are wearing them the wrong way, but we can't see how else these should be worn.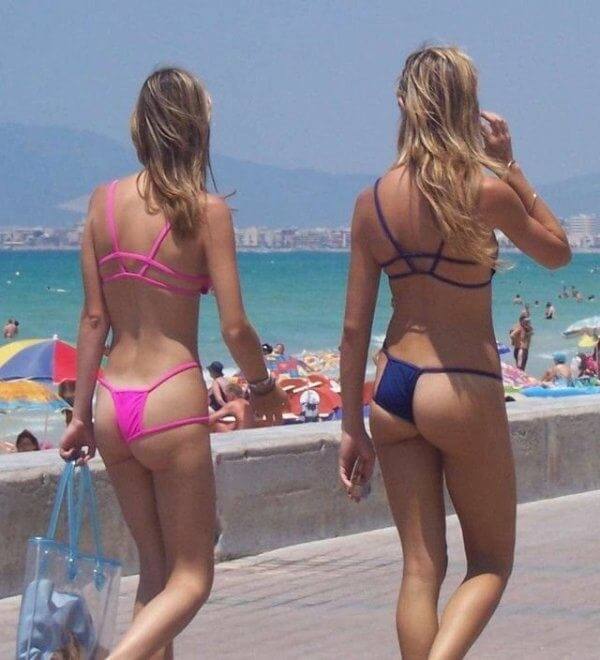 Didn't these girls realize that something was wrong with their bikini bottoms? This seems like they would get an abnormal breeze on their backsides, which would be a giveaway that something is not on correctly. They probably felt very silly when their photo was posted all over the internet.
3. Got A Spray Tan, And Then Cried In The Car
This girl was feeling herself with her fresh spray tan for a healthy summer glow, and then tragedy struck. As soon as she got in her car, she started to think about everything going wrong in her life, and the tears flowed. Then, she looked in the mirror, and her tears ruined her tan.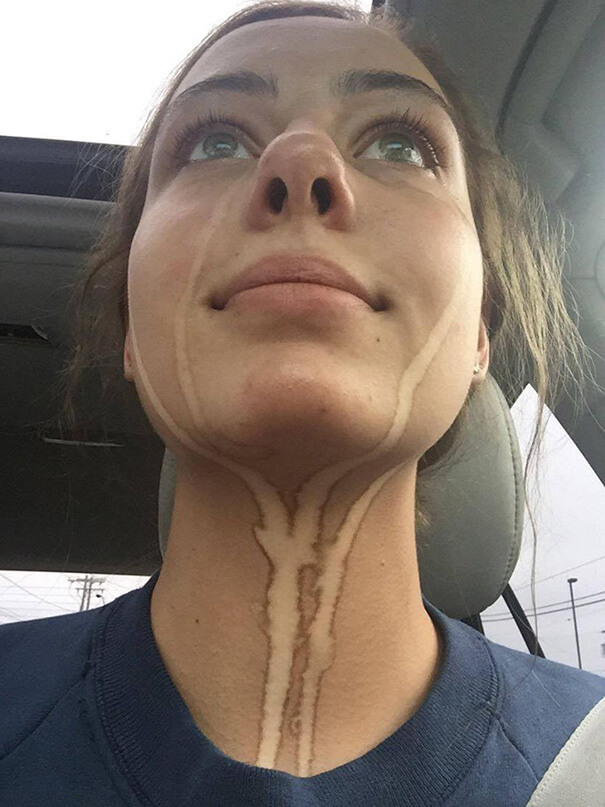 Now she looked like a streaky mess, which only made her cry more. There was only one way to fix this, and that was to wash off the tan right away. Her day continued to go downhill because she spent all that money, and it went down the drain. Lesson learned: If you feel like you have to cry, don't get a spray tan.
4. She Is Not "Happy" Now That It Is Tanned Onto Her Forehead
While participating in the Color Run, this girl forgot to put sunscreen on her face. After rolling her ankle and waiting to get an X-ray at the emergency room, she realized the stickers had left a tan line on her forehead. Unfortunately, the word "happy" wasn't fitting for her current situation.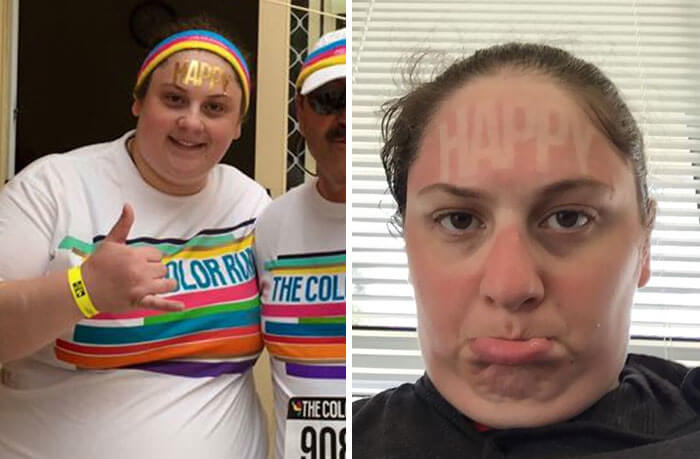 mitchp88
For the next few weeks, she had to walk around with "happy" written on her forehead until the tan finally faded. People would give her strange looks wherever she went, and makeup didn't fully cover these awkward lines. It was a good reminder to use SPF regularly.
5. "Don't Just Stand There And Laugh, Help Me!"
This man has a little something stuck on his backside. He accidentally sat in the small chair, but he was too big for it, and his family just watched and laughed as he struggled to get up. This is like a scene out of a movie, and honestly, we didn't think a chair could really get stuck to someone's butt.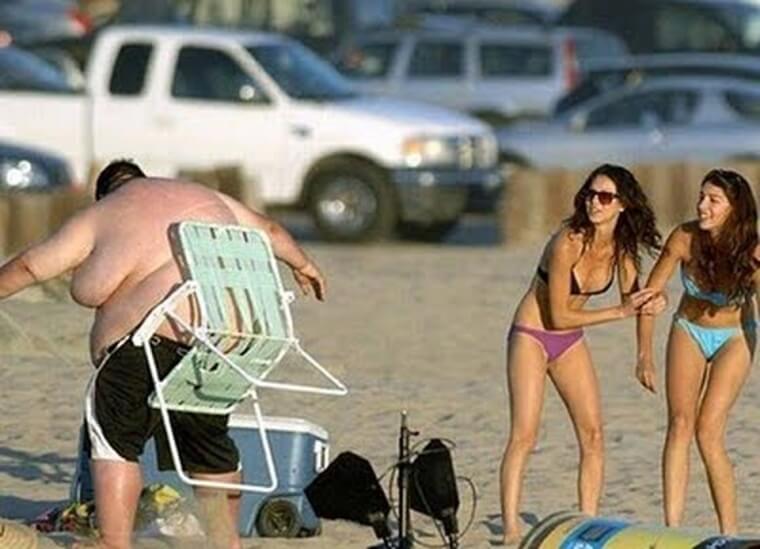 Hopefully, they stopped laughing long enough to help him remove the chair. It would be pretty unfortunate if they had to call in reinforcements for help to get him out of it.
6. "So Our Car Isn't Part Submarine?"
These people tried to see if their car could work underwater, but they quickly realized they didn't pay for that upgraded feature. It seems fun to drive onto an empty beach, but many people forget that the sand cannot hold the weight of a vehicle.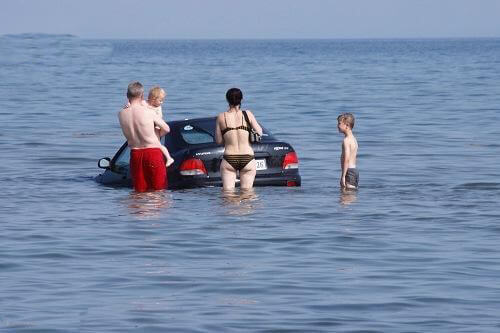 The family should grab their belongings and go to shore for help getting the car out of the water. We aren't sure why they are standing around it, wondering what to do when they should be calling some kind of tow truck.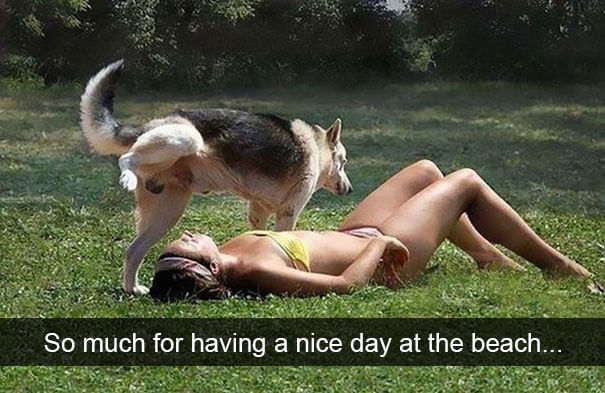 We hope she woke up in time to move before he started to pee on her, but we don't know if she was that lucky. This is not a good boy, and he was put in time-out for using his owner as a bathroom instead of going anywhere else on the grass.
7. From Now On, She Will Be Known As The Sand Eater
Whatever this girl was trying to do, it went horribly wrong, and she ended up with a faceful of sand. She must have been trying to do a flip or a cartwheel, and it did not go as she had planned. Thankfully, someone was there to capture her fall for the internet to see.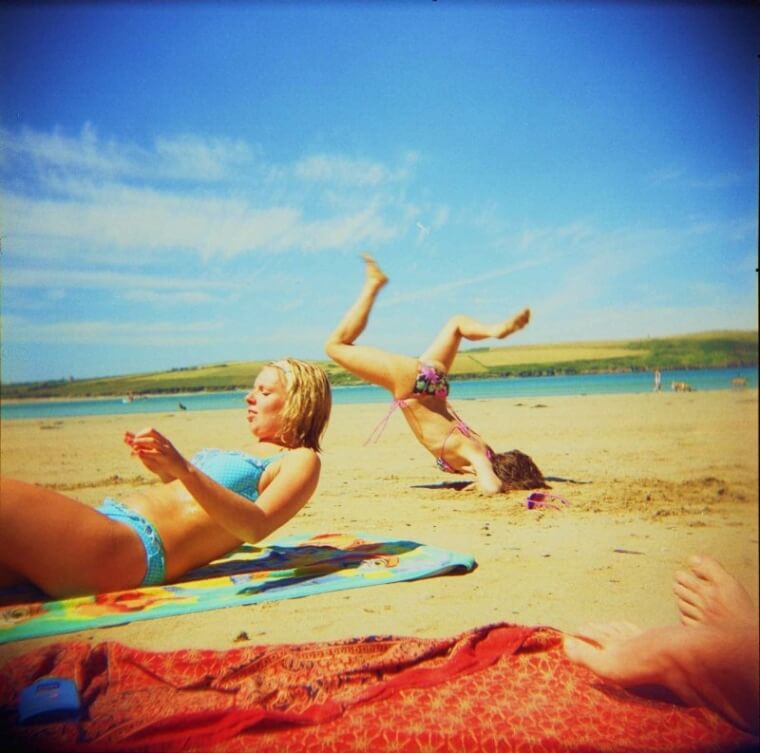 It is always funny to see people trying to show off their gymnastics skills at the beach, just before they come crashing to the ground. While the sand may feel soft under your feet, it is not comfortable to land face-first on the ground.
8. The Worst Kind Of Photobomb
This girl was just trying to get a cute picture of herself at the beach when two dogs decided to do the deed in the background of her image. The photographer probably saw this happening as they snapped away and chose not to warn her because it was funnier this way.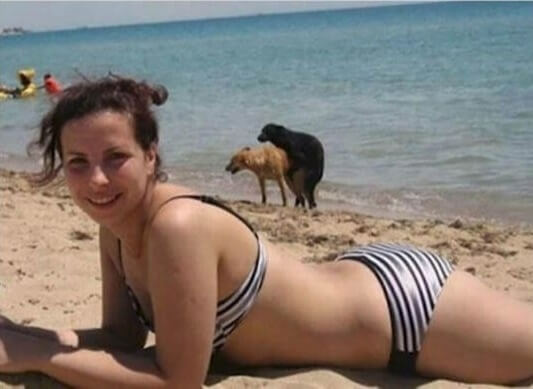 These dogs need to get a room instead of doing it in a public space. Where are their owners to stop them? The girl was probably grossed out when she looked at the pictures her friend took and asked for a new set of photos once the dogs were gone.
9. Matching Tan Lines With The Dog
This man loves his dog so much that he wanted his feet to look like his dog's. Instead of tanning his whole leg, he left his shoes on so it would look like the color contract on his dog's paws. Who do you think wears this look better? We like the dog's version a bit better.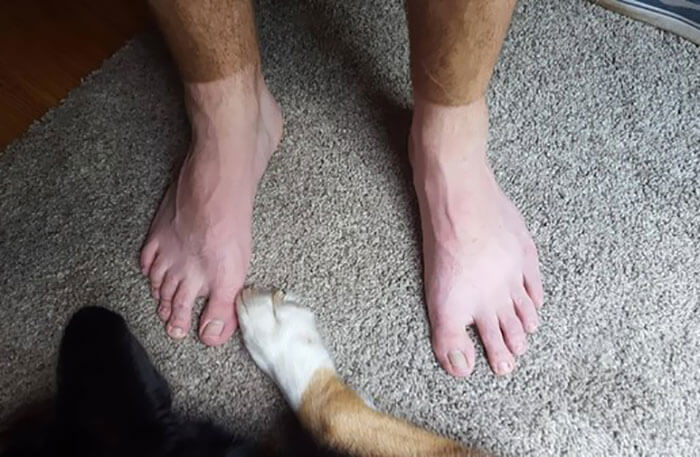 Vituka
The lengths people go to match their dogs is absurd sometimes. He could have put on tan tights instead, but he had to make this a more permanent change. For the rest of the summer, he had to walk around like this at the beach, and it wasn't the best look when he had his shoes off.
10. Instagram Vs. Reality
Back in 2010, these hair-flipping-out-of-the-water pictures were all over social media. Everyone tried to recreate the flawless photos, but they usually turned out looking like you almost drowned. Take this girl, for example; she is the prime example of what people thought they looked like versus how they actually looked.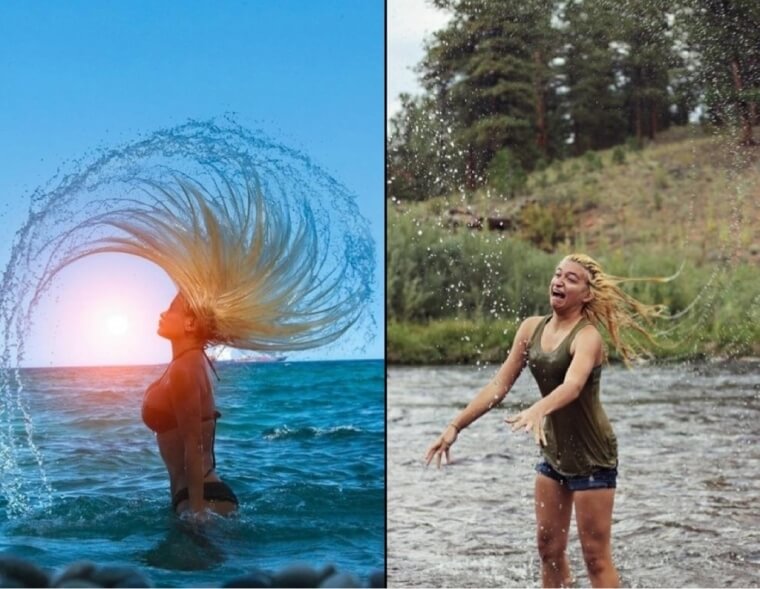 As you come out of the water, you're so focused on getting your hair to flip that you forget to make a relaxed face. We still aren't sure how the model managed to look so relaxed while taking this picture, but no one else could make it look so lovely.