Singer Taylor Swift is known as the queen of Easter eggs: she likes to use them in her songs, music videos, and even costumes, while her fans have fun finding and deciphering them. But there are even more celebrities who don't mind sending secret messages to the world or a certain special someone.
At Boredpedia, we decided to search the Internet and try to decipher the secret messages of celebrities who used them in their outfits, accessories, and even makeup.
                             Scarlett Johansson and Brie Larson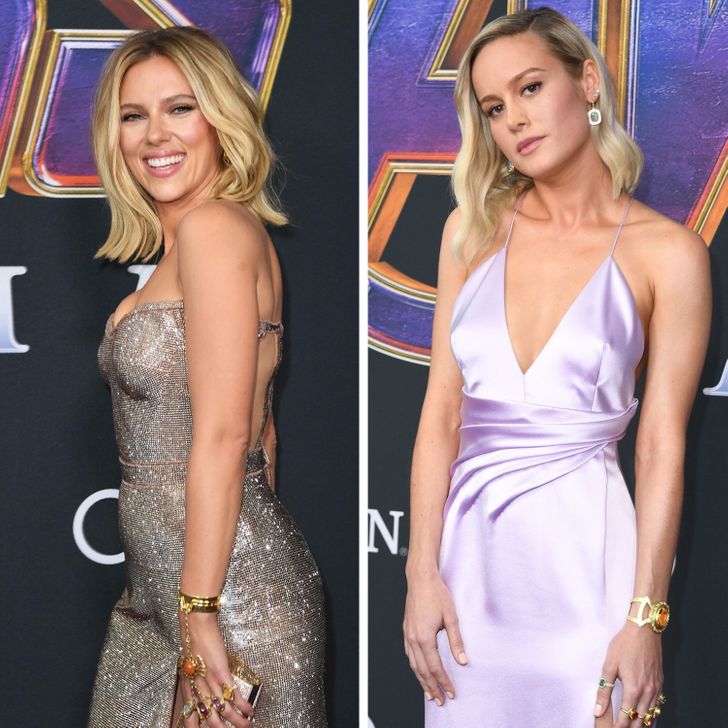 © VALERIE MACON / AFP / East News, © VALERIE MACON / AFP / East News
At the premiere of Avengers: Endgame, Scarlett Johansson and Brie Larson attracted everyone's attention not just with their gorgeous dresses, but also with their accessories. Both actresses showed up wearing jewelry versions of the Infinity Gauntlet. This was a very elegant Easter egg.
                                                      Blake Lively
In 2018, at the annual Met Gala event, the actress had to come alone without her husband and kids. However, she found a way to take them with her. She had a stunning dress on, but the main feature of her outfit was a clutch. It had the first initials of each family member on it.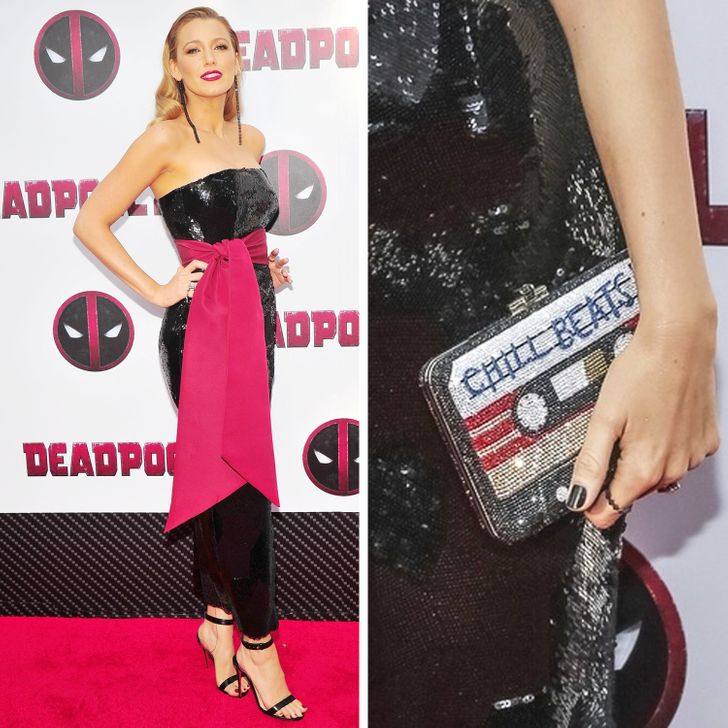 © Jack Shea / Starshots / Broadimage / East News, © Brent N. Clarke / Invision / AP / East News
At the premiere of
Deadpool 2
, which starred Ryan Reynolds, Lively expressed her 
support
 for her husband by wearing an outfit that featured the movie's main colors, black and maroon. Additionally, she had a clutch that looked like an old-school cassette tape, which was a replica of a cassette shown in the movie.
                                                Natalie Portman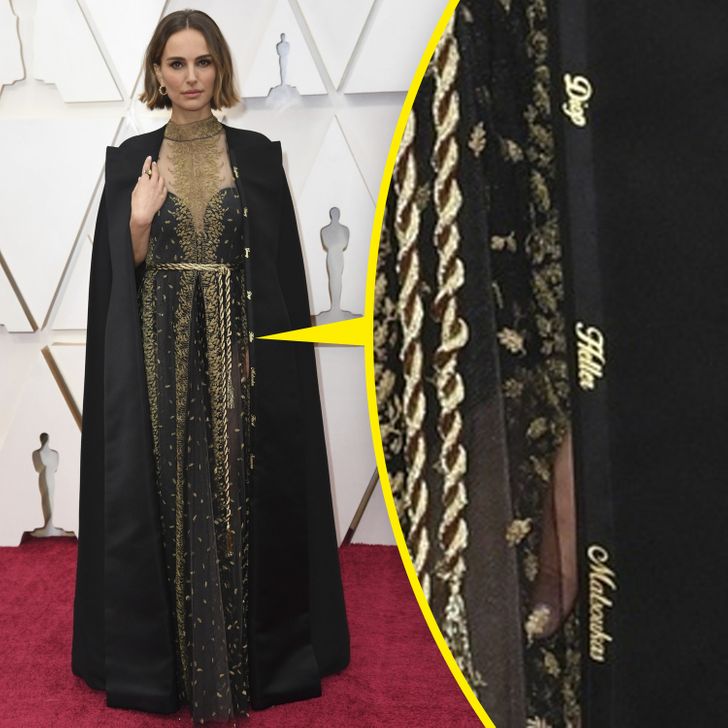 © Invision / Invision / East News
At the 92nd Academy Awards ceremony, the actress
showed up
 wearing a black-and-gold gown with a matching cape — but there was a hidden message inside it. It included the names of female directors excluded from that year's "Best Director" category embroidered into the cape's lining. It just so happened that only male directors were nominated that year. The actress 
explained
, "I wanted to recognize the women who were not recognized for their incredible work this year, in my subtle way."
                                                  Selena Gomez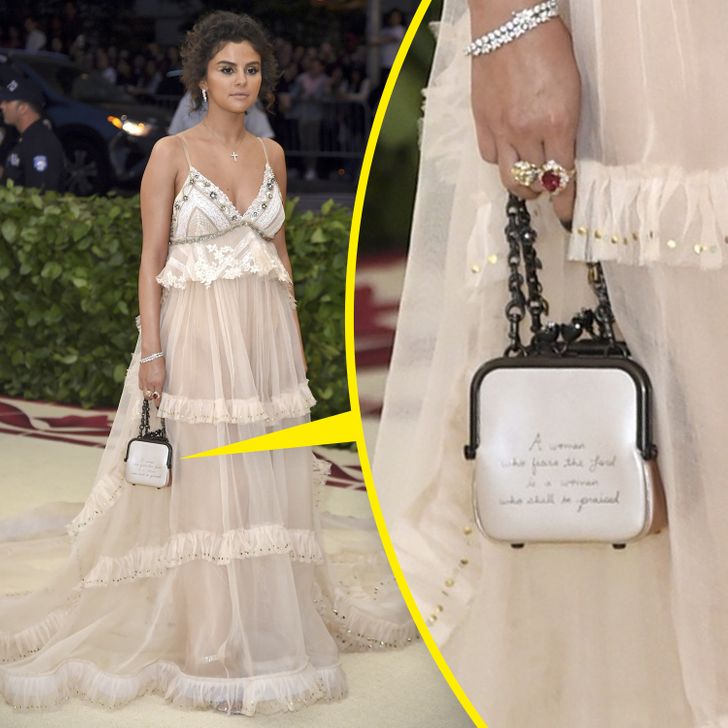 © Evan Agostini / Invision / AP / East News
In 2018, Selena Gomez wore a tiny bag to the Met Gala event. It was a custom-made bag with writing on it. This wasn't the first time the celebrity used the Met Gala red carpet to send a secret message. A year earlier, her bag said, "Love yourself first."
                                                             Lorde
At the 2018 Grammy Awards ceremony, singer Lorde wore a red tulle gown with a message that was hidden on its back. She hand-stitched an essay by Jenny Holzer there.
                                                   Tiffany Haddish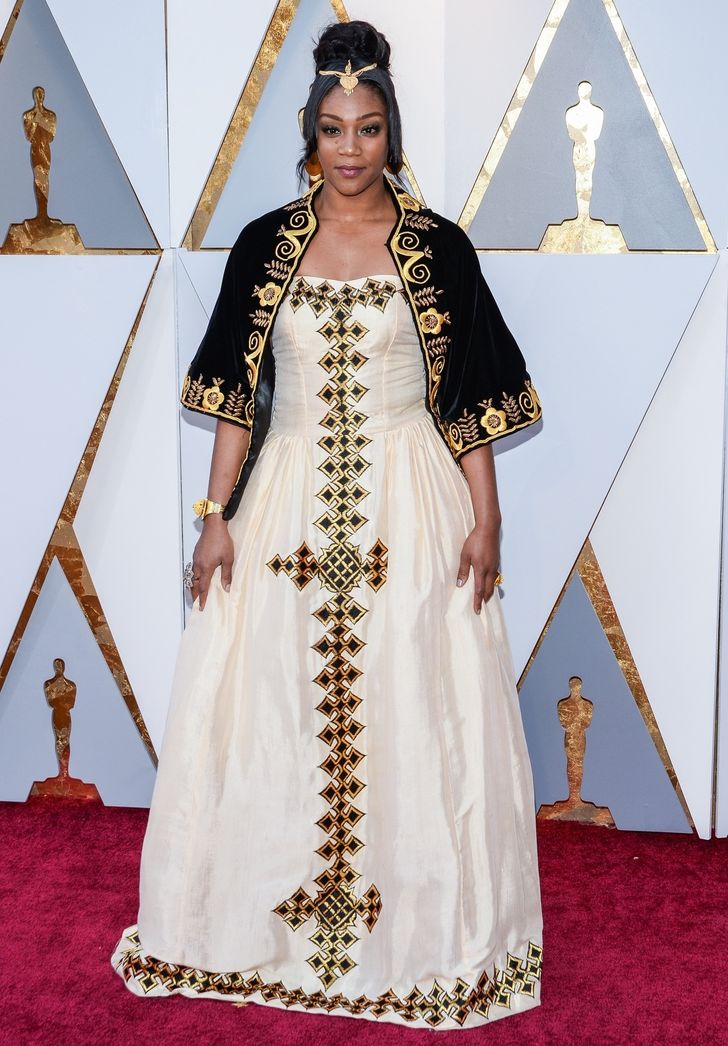 © Anthony Behar / Sipa USA / East News
At the 2018 Academy Awards ceremony, actress Tiffany Haddish showed up wearing a cream satin dress with golden embroidery and a matching black jacket. Her hair was styled in a bun, and her forehead was adorned with a gold headpiece. There was a
hidden
 meaning behind this look. By wearing an Eritrean authentic princess dress, she honored the memory of her late father who was from Eritrea in Eastern Africa.
                                               Millie Bobby Brown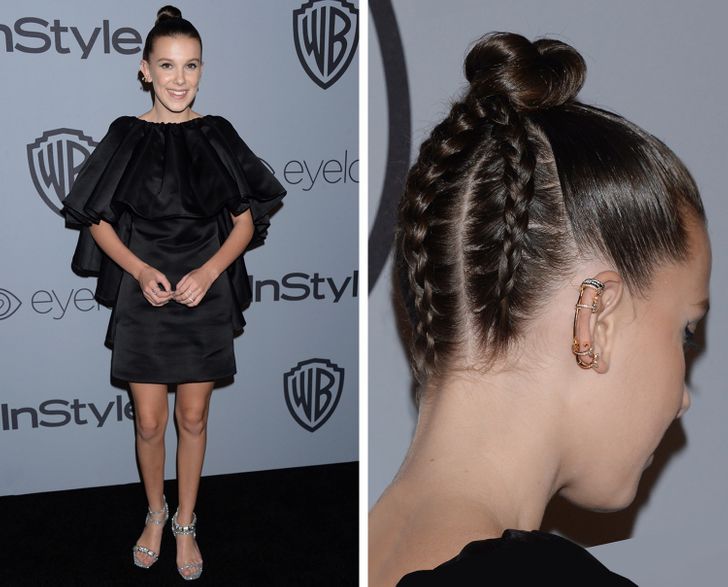 © Gilbert Flores / Broadimage / East News, © Gilbert Flores / Broadimage / East News
At the 2018 Golden Globes, Millie Bobby Brown, known as Eleven on the
Stranger Things
 TV series, 
showed up
 with an original hairdo. She had 3 intricate 
braids
 forming 2 parallel lines, or a number 11. Fans believe that the actress honored her character this way. However, there was no official confirmation of this.
                                                 Amanda Seyfried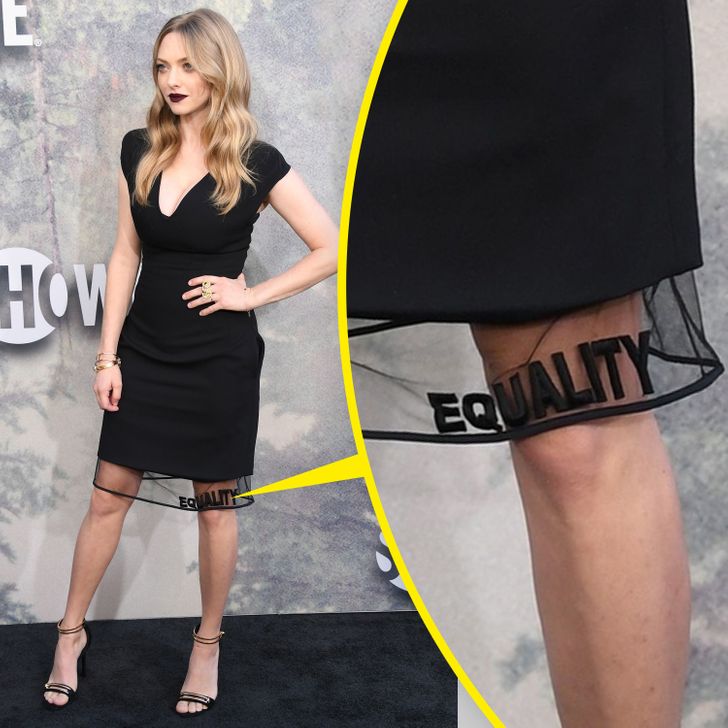 To the
Twin Peaks
 premiere in 2017, Amanda Seyfried came in a tight black dress with a bottom hem that read: EQUALITY. It's 
believed
 that Seyfried wanted to attract attention to the pay gap for actors and actresses. She 
posted
 the photo from the premiere on her Instagram and wrote, "
Twin Peaks
, equality and diamonds for everyone."
                                                    Elisabeth Moss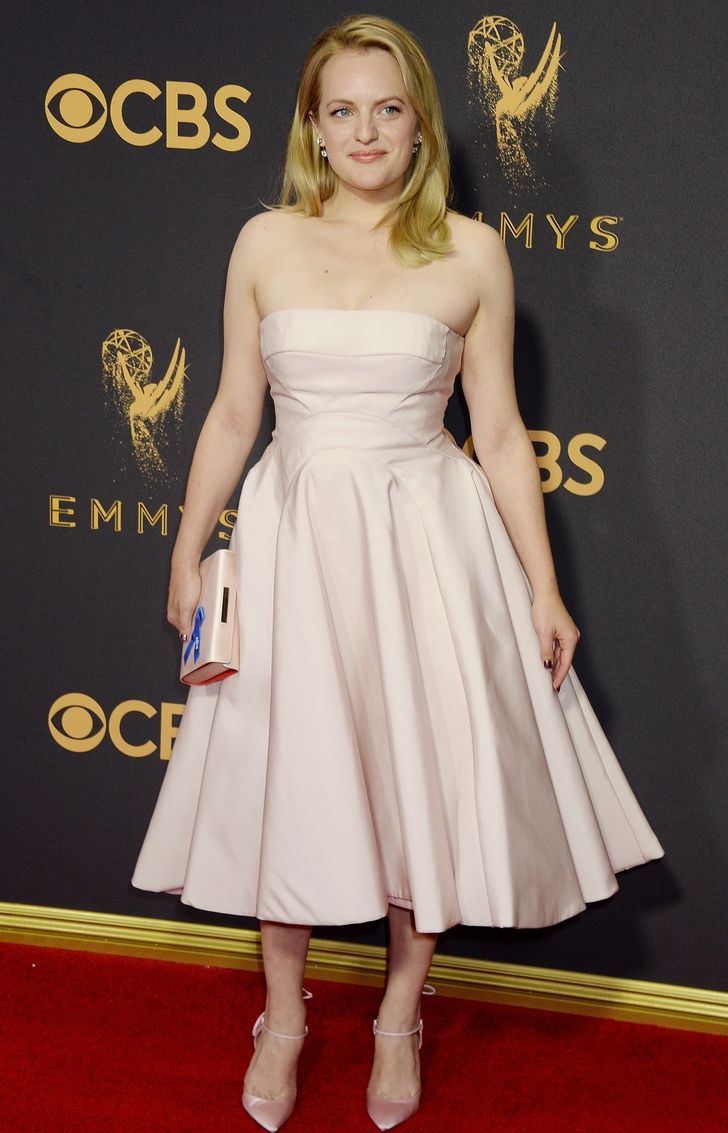 © Gilbert Flores / Broadimage / East News
View this post on Instagram
At the 69th Primetime Emmy Awards, actress Elisabeth Moss wore a light pink dress and matching shoes with soles that concealed a secret message. Her stylist, Karla Welch, posted a photo of one of the shoes, implying that we should guess what the other shoe said. The sole said "off." There is an opinion that the other shoe said "red." This is a nod to Moss's character's name in The Handmaid's Tale.
                                                    Emma Watson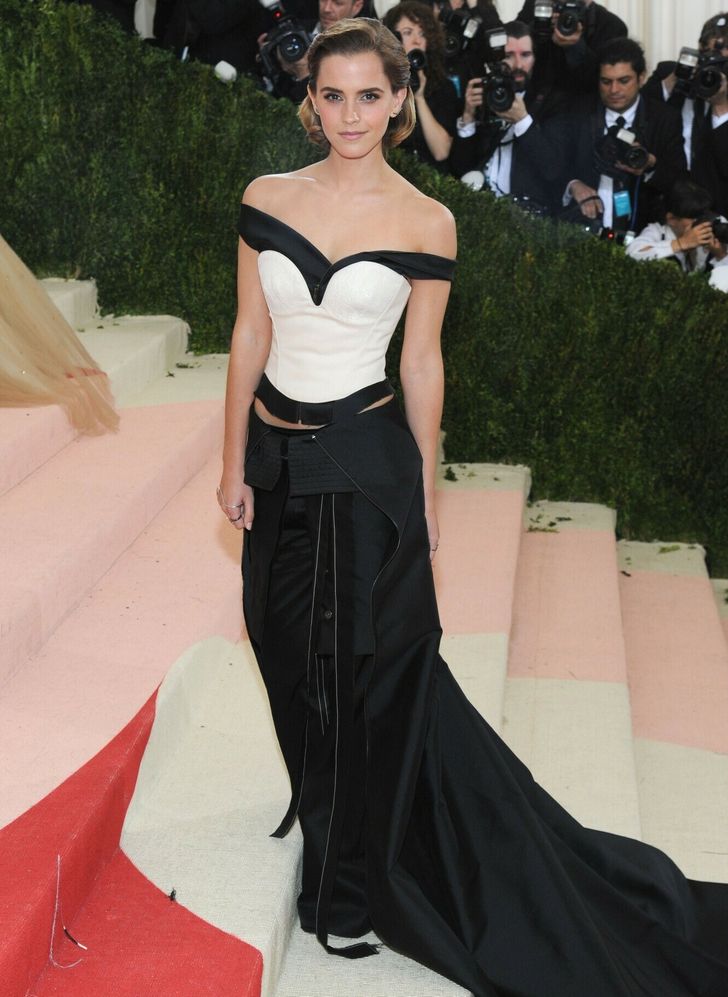 © 0000554/Reporter / East News
Very few people know that Emma Watson's gorgeous black and white gown she wore to the Met Gala event in 2016 was
made
 of trash. The outfit was made of recycled plastic water bottles. The actress chose one of the most important events of the year to show that one could look stunning and be eco-friendly at the same time.
                                                Emma Stone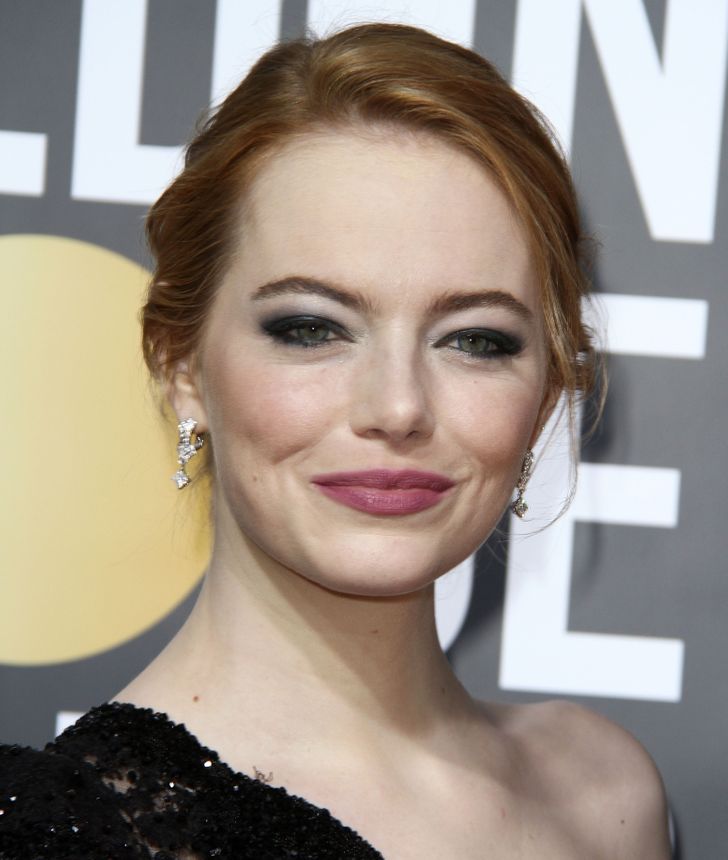 © PacificCoastNews / East News
At the 2018 Golden Globe Awards, some celebrities decided to wear black to support the women's movement, Time's Up. Emma Stone was among them, but she went even
further
. Her makeup artist, Rachel Goodwin, 
found out
that suffragettes often wore purple, green, and white clothes and accessories, so she decided to used these colors in Stone's makeup.